Acting

Ciarán started teaching acting classes to students in grades 5 to 8 during his second year of University. He taught these classes for three consecutive years, focusing each lesson on a specifically different form of theatre and always culminated each lesson in a performance by the students.

Ciarán has also developed and taught a progressive 6-week acting class for adults, focusing on the emotions and voice of a relaxed body in space and applying it to classical text. Each student leaving with a well-workshopped audition piece for classical theatre.

He has taught groups and individuals, led workshops in clown and mime for university students, prepared actors for auditions, and polished plays.


Dramaturgy

During his Master's degree Ciarán learned to consider creative risks against the precedents set by modern and emerging theatre traditions. He has a practiced sense of the strengths and weaknesses of classical story structures and works with the audience as well as the artist in mind.

Being a writer himself, he is sensitive to the impassioned teeter of confidence that a creator often has with their work and hopes to help each writer maintain their enthusiasm while still bringing attention to the problems that need to be surfaced and asking the questions that need to be asked.

Ciarán has studied musical theatre, the problems of translation, and the political relationship between artists and audience on a theoretical level as well as a simply boyish enthusiasm for drama and literature.
Powered by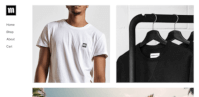 Create your own unique website with customizable templates.