​I struggle to help some people around me understand the work that I do. I am an award-winning playwright with an MFA from one of the top schools in the field. At any given time I have multiple projects on the go. I have been magnificently fortunate. But when I search for the language to explain what I do, the world seems to turn beige and retracts.

There is a much bigger conversation to be had around what the arts take from society and what they contribute in turn. This article is for the layperson. To begin to understand my perspective, here are some brief truths to start from:

In 2013 Arts and Culture accounted for £850million in UK Exports.
Arts and Culture is the least government subsidized sector.
Cultural development is not well suited to the capitalist structure.
In fact, funding bodies don't support culture that makes capital.

Artists can make budgets

A short while ago a successful entrepreneur I know posited that private investors struggle to support the arts because artists don't know how to build a robust budget plan. At the time I nodded my head, I think, trying to absorb the perspective of those with more financial power than myself. But, if you're a professional artist, I'm certain you're uncomfortable with my silence in this regard. That is because we make a new budget for every project that we do. I've written three in just the past couple months.

Leaders in the cultural sector know how to make small project-oriented budgets as well as large multi-year operational budgets. Otherwise, naturally, we wouldn't have galleries or theatres or symphony orchestras.

Importantly, and probably what my friend meant, we make a very different kind of budget than a traditional entrepreneur does. I'll talk about that further down.

But let's unpack the last two bullet points at the top.

Commercially-driven producing models such as the Drayton Entertainment theatre franchise receives no public funding (as far as I can sleuth). This is because they present productions that have been developed elsewhere—often a long time ago—and proven commercially successful for financial gain elsewhere, by other companies, as well. To mount these productions Drayton does not have to hire artists for a development period to create the art and they do not have to hustle to convince their audiences to come see something unknown. This is a great model because it employs countless actors and technicians, it creates a gateway into theatre art for apprehensive audiences, and it brings Broadway-like shows to rural communities. Brava!

However, naturally, if all theatres produced with this model then there wouldn't be any content to produce. Or, at the very least, it would all become exactly the same.

Arts organizations that focus on the development of new work typically have to split their income three ways: government grants, private donations, and ticket sales. Ticket sales almost always make up less than a third of any theatre's budget. This includes such "giants" as the Stratford Festival, Shaw, and Soulpepper, as well as fledgling little upstart ensembles like my own little collective.

It is already beginning to make sense why the cultural sector

does not thrive in the capitalist model

. An organization might theoretically benefit from raising ticket costs (like Waterloo Stage once did here in my home city). But then they run the risk of alienating their patrons and, effectively, losing money (like when our Waterloo Stage permanently shut-down). So we apply for government subsistence.

When I do a creative project I'm usually employing between three and 10 people. A majority of the funding that I apply for pays for their time and expertise so they can put bread on the table. They are almost always underpaid. Very little of the funding I apply for goes to expensive-looking elements like fancy projections, web-content, costume design, etc. Most of that stuff is the fruit of a returned-favor or an in-kind donation.

Isabella Stephanescu, the Artistic Director of

The InterArts Matrix

, puts it simply: "artists are money-poor but resource-rich."

So why are my artist-employees underpaid?

Public funding in Canada has a healthy level of competition. There are more artists applying for funding than there are dollars to distribute. This means that we have to create projects that target the wishes of those funding bodies. Which is easy enough and often a wonderful morally just thing. It also means that, in general, we have to create projects that are cheap to produce. There's a reason I wrote a one-woman-show during my master's degree.

The other, more affecting, byproduct of competitive arts funding is that we usually receive less money than we ask for. I've never received more than 66% of what I've requested from a public funding body. Hopefully that's only because I'm a wee 30-year-old artist-baby still learning how to make it happen. But, then again, being 30 puts me in one of the OAC's priority groups …

This is where the skill of creating a robust budget comes in. In order to apply for any public funding we have to submit a detailed budget plan. The sum of expenses (most of which is a handful of fair wages) has to equal the sum of capital (much of which is public funding). After the budget is built and only 60% of the applied-for funding received, the numbers will no longer cancel each other evenly.

Naturally, there are ways of anticipating this in order to still pay everyone fairly. I can build a gratuitously expensive production element into my budget plan and then omit it once the funding arrives so that there remains enough to pay everyone fairly. But this is hard to anticipate and creates false demands around what you envision your project to be.

Why doesn't the government allocate more funds to it's cultural budget?

The short answer is because it isn't sexy to politicians.

Let's again return to my bullet points at the top of the article.

£850million

is not insignificant. Contrary to popular belief there can be a monetary return on culture. This stat, however, comes from a country with more public arts funding per capita

and

a population of ticket-buyers and investors who are more culturally prepared to support the arts. Canada doesn't have the same depth of tradition to export culture as successfully as the United Kingdom.

Art and culture are also a vital element in creating a rich local economy. I hope to produce a play inside an independent business soon (stay tuned). That business will benefit from patronage directly supplied by my audience. Even cultural events more traditionally outside of independent businesses create a return to the community. They employ people, they bring traffic to city centers roughly around mealtime, the develop tourism, etc!

Cultural events are also an important part of industry retention. Citizens want something to do. The more employable members of a community—those with a greater spending power—have no reason to remain in a city that is not enriching them.

Of course, more funding would, in time, supply us with that depth of tradition required to lucratively export culture like the UK does. Perhaps the gap between our current reality and that possibility has a lot to do with the incorrect assumption that money disappears once it is invested in the arts.

Could the government invest more in art and culture?

I struggled to find a digestible comparison of government subsidy by sector that even bothered to include the arts.

But this five-minute video

provides an elegant account of the budget Trump proposed during his electoral campaign. It shows us how much the Obama administration allocated to each sector against how much Trump's administration does. So, conveniently, you can see a budget on the political left (or centre, perhaps) as well as the political right. Arts shows up as you approach the 4-minute mark. I strongly suggest you watch it.

In other words, yes. Yes, I believe governments can afford to invest more into art and culture.

It boils down to a question of how government wants artists to be spending their time. My friend Viktorija Kovac, artistic director of

Cosmic Fishing Theatre

, generously encourages my creative practice by saying that if I spend my time not writing plays, then we all lose. Thanks, Viktorija. Unfortunately, I've put triple the time into being an arts administrator than into being an artist over the past two years. That's because I need to be paid for my contribution to society; I need to put bread on the table.

The biggest single reason I'm sitting down to write this is that my brain is struggling to bounce between projects and write the appropriate applications for the appropriate opportunities. I need to lay it all out or trim my workload in order to create more focus. Or get this gadfly off my neck …

Wait, how are artists spending their time?

That's right. I'm not creating art nearly as much as I am enabling it. The tragedy is that doing the crucial work of enabling it is usually unpaid effort. I typically get paid when the administration done in my "free" time is successful. And it isn't always. Let that sink in.

This is part of the reason that you'll see a lot of artists supporting the idea of a Universal Basic Income.

The most recent edition of Good Work News

argued that a Universal Income provides opportunity and incentive for precarious workers (34% of the workforce) to stabilize into better contributions to society. Artists don't need that incentive because we already have it. We would contribute so much more to society with a socially-guaranteed safety net underneath of us. We would create more culture and we would have broader audiences.

There is also an argument that,

with automation and the continued disappearance of blue-collar labour

, our economy will soon demand a Universal Basic Income in order for the healthy functioning of every private sector but innovation.

I thank God for the tactless upset of our more-senior artists. When the National Arts Council announced that they are allocating their incredible funding increase that came with Trudeau's government to digitization, there were shots fired. Canadian cultural hero, Michael Healey, had an almost regrettable field-day on twitter.

We are not opposed to progress or innovation in our ancient field. In fact, we trip over ourselves to provide it. The controversy is that we discovered that what little money supports our field is also threatened by increasing digitization. We are the same as everyone in that respect and it is terrifying.

Oh, lowly be the feckless state of culture in this aspartame-beige universe.

Not so! Please don't misunderstand me!

The people who work for arts councils and funding bodies are full-aware that their income is more comfortable and reliable than the people they support and, therefore, continue to "show up" to the job with such a gusto to make any entrepreneur blush. It's not their fault that they can only give me two-thirds of what I need.

Thanks to a healthy mixture of public funding and private support Canadian theatre has invaded Broadway beautifully this year.

Come From Away is making millions

.

Soulpepper took a Critics Pick

from the New York theatre scene.

Independent Canadian productions

regularly bring awards back from the United Solo Festival or the Edinburgh Festival. There are success stories and, to some degree, I am grateful to be one of them.

Let's just not take for granted: they needed the financial support in order to get there. More importantly, we don't always need to get there. As long as your local artists are supported, so will you be. Canada has an incredible mass of amazing artists. If you're not seeing them then, be assured, there's a reason for that.

But I'm not interested in that kind of work.

How do you know?

I'd like to draw your attention to the fact that a major theatre in Berlin is

currently occupied by protesters

who set out to reclaim the building from its administration because the citizens are concerned that the programming is too commercially driven! This is happening as I write …

Public funding enables art that does so much more than capitalism demands. And I am grateful to live in a country that has a little.

So, Ciarán, are you poor?

I am so rich in so many ways. I have been magnificently fortunate. And I am hell-bent on sharing my wealth with you. That is why I've been taking up the space in my brain usually reserved to write plays, perhaps too much, with thoughts about developing my city's cultural sector. I want to make this a place where someone can be an artist and not have to do much else with their time. I admire the Symphony Orchestra for hiring so many full-time musicians! Perhaps the best way I can do that for my city is to simply write plays. But it's impossible to know. And I'm still a little fledgling. Thanks for asking though.
Powered by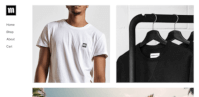 Create your own unique website with customizable templates.