I originally posted the following onto the social media pages of

InterArts Matrix

after a conversation about it with Isabella Stephanescue.

*

The decision of

Coach House Books

to

suspend poetry publications

will be more impactful than I think we will be able to measure. They're one of few Canadian pub

lishers who print their own titles. This means that they provide an immediate mobility for authors to reach readers and are able to support authors ostensibly faster than other routes to paperback. And although poetry is rarely lucrative for anyone, it also means that authors can sometimes get paid faster for their work (something which we are extremely passionate about here at IAM).



Editorial Director, Alana Wilcox cites our "twitter world" for the changing direction of poetry in Canada. This is what worries me.

If you haven't noticed, I love twitter. But, although it gives us access to a million different communities and perspectives, it represents only one thin layer of our culture. Surely we can't ignore it after the astoundingly swift success of local poet, Rupi Kuar.

If I may, my criticism of

Rupi Kaur

's poetry is that it is young. Not a bad thing by any means. She is a young writer and I'm first in line to celebrate that. But she has such an ocean of room to grow. Also something to be celebrated. The problem of this has to do with the avenues of her success. She developed her readership on instagram where bite-sized, quickly digestible, poetry is Queen. Her lyricism and deceptively simple use of imagery do her all kinds of favours. But the medium that she developed her voice in did not encourage a close or vast interrogation of structure. In poetry "structure" means so many things!

I use her as an example because her age and her medium have created an entry point for so many non-readers of poetry to become readers. And writers! It's a great day for poetry! But as poetry (and Rupi, deservedly) enjoy this freakish hey-day the full gamut of the literary medium starts to disappear. Especially as the new readers she draws have little other context to discover the scale and variety of the canon.

Coach House Books' decision to put poetry publication on hiatus is not only a disservice to writers who now have nowhere to grow beyond literary magazines and their instagram accounts; it is a disservice to new readers who will now have less to discover.

Any artistic medium needs many rungs on the ladder to success. From a recital in your living room, to the platform of social media, to your first grant, to

The New Quarterly

, to Coach House Books, and then off to becoming

The New York Times

Bestseller, or what-have-you. That Rupi jumped from social media to NYT Bestseller does not mean that other writers will. Nor does it mean that they can, especially as granting bodies that make writing and publishing possible often don't care how many twitter followers you have.

Naturally, Coach House Books is a business and they need to keep the lights on. If their poetry publications are sucking more resources than providing then it must be time for a change. This might be an indicator for bodies like the

Canada Council for the Arts

to deeply interrogate their recent changes.

Coach House Books' first publication was a collection of poetry. They have published some of Canada's most important and influential poets, including

BpNichol

, Gwendolyn MacEwan,

Michael Ondaatje

, and Anne Michaels.

Without Coach House, we wouldn't have access to writers like those. Nor would they have access to us. Because, frankly, their work is too robust to receive the attention it deserves if left to die on social media. As Wilcox says, we live in a "twitter world." And I love that world. I really do. But social media doesn't pay anyone for their work. It doesn't keep a hard copy for posterity. And it doesn't invite you to take time and slowly digest a piece of literature that deserves it.

​

Surely this "twitter world" is a reason to circulate poetry with a heavier gusto than to put it on hiatus.

We are being severed from a promising generation of writers and readers. I hope Wilcox finds better answers.
Powered by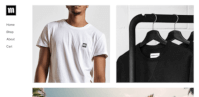 Create your own unique website with customizable templates.