There are openings happening for Artistic Direction at:

Manitoba Theatre CentreThe Canadian Stage CompanyPuSh FestivalSoulpepper

They all want candidates with a certain length of experience leading a certain size of budget (as apposed to candidates who's most coveted skill is assembling the best team for artistic excellence). This is because arts funding is

insufficient

in this country.

As you read this, keep in mind that a major theatre in Berlin was recently

occupied by protesters

because they were concerned that the new leadership (formerly leading Briton's TATE Modern) was too commercial. TOO COMMERCIAL, I TELL YOU. I suppose the famously efficient Germans prefer development and mobility in risk. Bless their hearts.

With at least three major theatres basically looking for the same rare candidate, one of three things can happen:

- One of them will hire someone from Europe or America who already had basically the same job or

- A "retiring" AD will sidestep into one of these openings, effectively keeping the same job, or

- Someone will take a risk and offer a vertical move upward to a promising young(ish) Canadian.

​

More importantly, as pointed out to me by my friend

Kendra

, if these institutions limit themselves to hiring within the posted job descriptions, the only candidates to consider are mostly old white men.

I've got nothing against old white men. I plan to be one soon. But I hope that I'll be working hard and well under the leadership of someone who's experience and worldview is more urgent, more progressive, and more reflective of our precarious wobbles out of colonization.

If the large institutions that represent so much of our cultural voice took a risk and hired someone who has never managed a certain-sized budget, then they would be able to create opportunities to the identities that have never had them. I'm not talking about tokenism. I'm not even talking about representation. I'm talking about enriching Canadian art itself by diversifying the voices allowed to speak it.

And, as has been

stated

throughout the ether, hiring from outside the country communicates a lack of faith in ourselves.

Young(er) people are ready for the role. We're full of energy. We're not jaded by politics. We have fresh ideas. And we know how to be frugal. We know how to be frugal!

As a matter of fact, also pointed out by Kendra, Steven Schipper was only 32 when we was appointed AD of MTC. And

Thomas Ostermeier

only 31 when we started leadership at the Schaubüne (but then again, that last one's Germany, so ... ).

Of course, its not just young white men that I'm chiefly endorsing here. That's understood, yes?

I get it. Canada just lost the

Magnetic North Festival

due to financial constraints. We need a "sure thing" to take the helm. It comes back to our funding structures. And perhaps a cultural disinterest in being challenged.

But, finally, old white men are being challenged. At least a little bit. Maybe that has something to do with the timing of this exodus from artistic leadership. It is time to raise new voices. It is time to develop new audiences. It is time to widen the mirror that culture provides.

It distills to a single question: are major institutions like CanStage and MTC more interested in maintaining their own strong ballast above shallow waters or are they more interested in deepening the waters so more can sail through? Forgive me, I'm a writer so I think in metaphors. Let's try this: are they more interested in maintaining their own (financial) growth with someone whose done it all before or more interested in developing our national (cultural) growth with someone who should be doing it now? Which is it?

Edit: The Guardian posted

this article

since I wrote this blog. Regarding having some faith in ourselves, the heart of my worry is that Canada still has to learn from the experiences relayed here.

Edit again: The Canadian Stage Company posted their job description for the position more recently than this blog was blargh'd. It makes me happy and you can read it

here

.
Powered by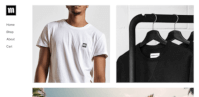 Create your own unique website with customizable templates.