If you're tuned in to contemporary (western) theatre right now you're no doubt aware that the Albee Estate pulled performance rights from Michael Streeter's company because they wanted to cast Nick as a black man. I'll try to be brief.

It's been said before but let's just get the following out of the way before moving on: the Albee Estate has allowed other racialized actors to play other roles in other productions in the recent past. But the text of

Whose Afraid of Virginia Wolfe

makes multiple direct references to Nick's aryan race. These references are not just words that flesh out detail in the world of the play; they have specific connotations of power and meaning, making strong social metaphors for the time the play originally premiered. Of course, crucially, those metaphors don't work in quite the same way anymore. It's been a while. But they're there just the same and Albee isn't here to bring them up to date. That said, we must trust that the director approached this casting choice with the careful and artful consideration of maintaining the play's meaning to a significantly different audience. Or something similar at least.

So the question remains: when interpreting new meaning in old stories, what is more important?

-- Are a dead playwright's words carved in stone?

(

@lobbywhisperer

thinks no.

My friend Sevan

thinks yes.)

-- Should the director be encouraged to move it forward?

(Even if the author is alive,

what else is the director's job?

)

-- Should we even be producing these plays?

I was doing my best to stay quiet on the subject of the Albee Estate and cross-race casting because I'm pretty much never a minority in my environment. I studied Irish dancing for more than ten years, that's me! … you get the picture. But then a friend of mine brought up

Beckett

. And, with my beloved Mr. B in the conversation, I can't help but feel a little bit invoked regarding the role of an estate censoring new interpretations.

I am confident that if Samuel Beckett were miraculously immortal, he'd still be updating his work so we wouldn't have to.

A Piece of Monologue

and

Ohio Impromptu

testify by their very titles that, despite being a perfectionist, Beckett wasn't shy of bringing unfinished work in front of an audience. In fact, we know for certain that he updated and altered the smallest details of his very first play until it's last production before his death.

Today I can't hear his name uttered without a pairing complaint about the stringency of his estate, forbidding reinterpretations with contemporary relevance.

In this regard, I side with his estate for the same reason that he would be still updating and altering his work if he were here: Beckett was an innovator. It wasn't until relatively late in his career that he garnered the recognition his name enjoys today—probably because producers and Artistic Directors were intimidated by his work or, at the very least, didn't know how to fit it in to a well-balanced season. All the while he held his vision tightly away from the culture of collaboration. He mostly directed his own work and even conducted actors to immoveable interpretation. But he had to! He absolutely had to work like this in order to achieve what he achieved. Beckett's hardass tendencies are completely responsible for our ongoing interest in him.

So he has innovated. And then he died. Now he's done innovating. And we still love him enough to pick up the mantel. Well don't. It's hypocritical to celebrate the fruits of his ego by attempting to break its rigidity.

As with almost all my blogs, you can guess the conclusion I'm going to propose.

When I proposed starting

Informal Upright

to Sukhpreet and Shawn, I was drawn to them, partly, on account of the passion and camaraderie that we developed while taking a class on Samuel Beckett in our undergraduate. Nevertheless, our mandate as Informal Upright is to produce contemporary works of theatre. I hope that, sometime in the first five years of our collaboration, we can produce a Beckett play as a double-bill with something brand new. I want to demonstrate that we can continue to develop and produce Samuel Beckett's aesthetic and philosophies with a different or updated contemporary relevance by producing something

other than

Samuel Beckett.

As a generation of theatremakers we are influenced by him. I want to celebrate that influence. But we go about it all wrong: if you don't want to honour Beckett's strictness then you're not producing Beckett: so don't. If you want to honour his memory by advancing it for new audiences then you're still not producing Beckett: so don't.

A couple questions for my seniors. How much does it cost to get the rights for a Beckett play? How much red-tape does a producer need to navigate to assure Edward Albee's estate that you're going to do it "right?" Do these demand more resources than commissioning a new piece by someone alive right now? Even just a little bit more?

If someone wants to produce a four-hand, densely-worded, slightly-bourgeois, kitchen-sink drama with a multi-race cast, hire me to write it. Or, better yet, hire someone who understands a multi-race environment better, like my friend Sevan, perhaps. Or hire

Andrea

who brought up Beckett in the first place! We've got our pens ready for you.
Powered by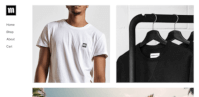 Create your own unique website with customizable templates.