It seems that every other week a new article crosses my social media about how theatre needs to adapt to the digital age. Pundits are screaming at artists and their producers and funders to

stay relevant!

As

I've waxed

about before, Howlround

argues

that broadcasting stage plays is the future of the medium. And The Guardian

agrees

. Everyone's favourite Lyn Gardner has been saying we need to "wake up to the digital age"

for six years now

. Pat the Dog Theatre Creation has been trying to trend the hashtag #textandtech for for at least a year, I think. To my utmost greatest concern however, the Canada Council for the Arts has been asking Canadian artists to fill surveys that justify their intended shift of focus towards a theatre that embraces technology.

I am writing this blog now to shout foul! No fair.

The straw on the camel's back to have me bother writing this between burping and changing my beautiful infant daughter was when my friend and colleague posted

this short interview

on facebook. In the short introduction that precedes it Ian Strickland criticizes the theatre industry for embracing digital technology at their box office "while neglecting other aspects of theatre practice." He wants to see digital adaptation inside the auditorium. The following paragraph reveals his suggestion: we would use, for example, mobile phone apps to "enable the audiences to engage more intimately with what's happening on stage …" His suggestion is to use a gratuitously familiar technology in order to (literally) change the (camera) angle on an ancient art form. But this would not change anything about what is actually happening in the auditorium. He wants to see a play on stage, in front of the audience, and for that audience to look away from it so they can watch it on the tiny TV in their hand. Sure it might be cool the first two times it happens but how does that actually adapt or advance the art form?

Surely there are nuanced approaches to staging that a director might employ in such a scenario. But they'd still be staging the same plays that they'd always been staging. Throwing a phone at the audience is not the same thing as making theatre arrive at the digital age.

In 2013 the Donmar Warehouse premiered Privacy, a well-constructed, non-narrative play about the lack of privacy that comes with our addiction to iphones. It was great and, at moments, employed the use of a phone in the space very well (despite their audience's apprehension to use their phone in the theatre). It is an important production to mention as long as I'm criticizing Ian Strickland because the use of the phone was integral to the actual content of the play. This is paramount: any other use of the phone in the theatre is nothing more than a gimmick. It would have to take part in the play because it

has to

take part in

this particular

play.

(Ironically, in this case, the Donmar's Privacy served as a doomsville warning against the evils of technology to their blue-haired, upper-crust, London audience.)

There are only so many structures and narratives you can build around a smartphone until you've run the gamut.

But, Ciarán, the technology will keep changing, offering better and newer opportunities all the time!

Of course it will! So should theatre chase technology? Should we maintain relevancy by scrambling to invent narratives around the newest thingamajig? I'd argue that's a faster route to obscurity than the art form's present course.

When the industrial revolution brought an influx of laborers into cities and swelled the "middle class" theatre changed forever. Our spaces and relationships to it changed, our audiences changed, our economic models changed. Now that we are living in what many call the digital revolution, they are expecting a similar bounce-back from the arts—especially community-driven arts such as theatre. But the nature of this revolution won't allow for the same kind of drastic shift. The very technologies that we're implored to chase make it impossible for necessary change to be so immediately drastic.

For the first time ever, every little thing we possibly present can and will be judged on a global scale. A good friend of mine, the artistic director of a small social-justice theatre company, criticizes Tannahil's

piece

at CanStage this year because it is being subtly marketed as an advancement, as theatre in a new format, while we all know it isn't at all. (But we have the wherewithal to step back and say

that's okay, at least it's not ANOTHER kind of Jersey Boys.

) In this ecology, even cool-dude, queer-prodigy, nay-sayer, opportunity-maker Tannahil can't win. For him and the rest of us, if he's making work that's truly new then it falls outside of the theatre tradition. Everything else has been done before. And we have the knowledge that modern tech provides for us to thank for that.

When I told Michael Wheeler that I was interested in writing narratives that necessarily require an investigation of the traditional form, he nodded his head and encouraged,

it's smart to follow trend

. But I'm not. If I was following trend then the Stratford Festival wouldn't have such a boring season this year (yeah, I said it!). Big theatres with deeply-pocketed patrons are sticking to the tradition because that's what keeps them alive. If we're so worried about the art form floundering than we can "follow trend" by re-writing three-act imitations of Checkhov for tomorrow and tomorrow and tomorrow …

I firmly believe, however, that tradition is best upheld by altering it. There IS something to be said for responding to the times. What terrifies me is the grotesque specificity by which we're implored to respond. In my self-righteous opinion, the more tech a play leans on for it's worth, the further it moves itself away from theatre. The reason anyone does this work when they have the skills to make more money in film and television (or more freedom online) is because they love the intimacy and immediacy of the stage. When the West End's Charlie and the Chocolate Factory makes a drawn-out gag with complex and beautiful projections, stifling the actors as they flounder across an oversized stage, I could … gag.

So how should theatre respond to a digital age? Sometimes, maybe, by not using any technology at all. Sometimes, only sometimes, that might be a gentle enough respite to sell some tickets, move people to new emotions, and make culture.

My Nana used to warn not to present a problem unless you can also suggest a solution. So here we go. If you want theatre to change then change the funding model. Don't tell artists to develop their craft; we've been trying to do that every day since Sophocles rocked the Dionysian festival. Worse still, don't tell artists to develop their craft

in a certain direction

because, as history tells us, they'll be absolutely certain to aim for the opposite (unless you're a funding body, in which case, they'll do whatever you tell them to. Reluctantly).

Change the funding model:

Shorten the ridiculous length of time between conception to application to realization. This will encourage and enable experimentation and keep momentum behind error and discovery.

Subsidize rehearsal spaces so that they're more accessible. This will take power away from gatekeepers to the industry and allow unheard voices to develop.

And most importantly, to rustle some damn feathers, stop rewarding financial success.

To expand on that last … Soulpepper, for example, is excellent at collecting donations and keeping subscribers (after all, they've been "following trend" for about a thousand years). So stop funding them. Give all that money to my disgruntled friend with his small social justice company. Then, once he's used it to make a strong momentum, take a bulk of his funding away and give it to someone else. Sure artists will suffer. But no more than they do now. And we're used to taking care of each other. Why not ask it of us more formally?

I absolutely guarantee you that, without forcing us to focus on it, without even talking about it, with no shadow of a doubt, you will gain a whole movement of theatre art that responds to the digital revolution. And the powerful members of the art form, the Caryl Churchills and the Morris Panychs, they won't lose their power---but they may become more accessible to those who idolize them.

If, instead, you keep rewarding those who "follow trend" for the sake of their wealthy subscribers while forcing them to make theatre about technology, you will harvest a younger generation of theatre-makers who think they have to build shows around technology. And those poor suckers who may have something to say won't get their hands on decent funding until the tech you've made them obsess over has has lost all its juice.

Ultimately, if you absolutely must insist I make work around the technology of the digital revolution then I absolutely must insist you to stop funding Shakespeare.

All this being said, I like living when I do. I spend way too much time on twitter. And I'll surely make work around a technology that represents the digital revolution. But when I do, I can only hope that the critics and funders lie awake at night wondering if I made that work because I wanted to or because they're forcing us to.
Powered by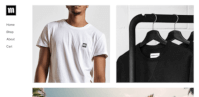 Create your own unique website with customizable templates.