I had been thinking about opening night of Stratford's Season with The Tempest for weeks or more. I was desperately excited to share a giant room with people I admire and then catch up with a few dozen well-dressed friends and acquaintances.

As we approached the Festival Theatre I naively thought that the crowd of bejeweled culture junkies filling the street was some kind of red carpet to-do. There was a pipe band tattooing across the grass, after all.

But a friend found us to tell there was a bomb threat and that the show had been canceled. I think of (Canadian) theatre as such a small and tightly-niche industry that it immediately felt absurd that the Stratford Festival's season opening was important enough to be stopped by a bomb threat.

I'd go so far as to say that the general mood among the nearly 2000 displaced theatregoers was more amusement at the absurdity than fear or despair. At least from my vantage point.

I'm sorry to disappoint the radical who called it in but, Canadian theatremakers are all

so damn busy

that I think many were secretly thrilled to have a night off. Since I'd shined my shoes and clipped on some cufflinks for the night-out, since the weather was so miraculously heavy and light, since half of your favorite people in the country were less than a block away, what could one do but find a patio and pour a few dollars into the local economy?

Unfortunately, I didn't get to witness it but I'm sure you heard tale of Martha Henry

carrying the Prospero staff

out of the theatre with her and then gracing her community with a speech from the play at the bar. Or of a group of students

reading the play out-loud

to each other in lieu of the performance.

During this little gift, I'm absolutely certain, the administrative heads of the festival were hard at work finding themselves—so to speak. From ticket refunds and transfers, unfulfilled catering, unfulfilled private donors, a closed Box Office on what may be it's busiest night of the year, … I imagine the financial toll of the bomb threat might have scratched into seven figures for the festival.

I held fast to two other playwrights I'm honoured to adore and we found our own quiet table and (like everyone else in a way) set to work. Not at writing, obviously, but at discussing, fixing, inspiring, and helping. The mortar around the bricks of the craft. It keeps me standing and I'm so grateful.

There were a lot of people I was looking forward to seeing after the show. People I certainly would have seen. People I think of often but rarely ever see. People I want to smile, and hug, and share great news with. But, notwithstanding the loss of the performance itself, I probably had a much better night. A simpler night—but a necessary night.

Making theatre

can be so disparaging

. We constantly challenge ourselves to be vulnerable and then put the fruits of it in the way of many forms of rejection. But last night proved the inevitable: if you take a community that professionally moguls an expressive life from the ruins of their passion, and blow them with the most spectacular rejection, they'll find a way to celebrate it.

I am, sincerely, sorry to report this to whoever called in the bomb. I'm sure they had their reasons. But thank you. We know what we're made of. But you gave us the reminder. We're made of a deep-seeded and relentless love. For the work and for each other. Thank you.

In the meantime, as the Stratford Festival's creativity is challenged to recuperate, now is the time for you to buy a season subscription to your favorite theatre. They're all doing their wild hard work for you. It's all for you.
Powered by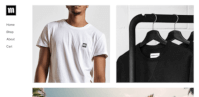 Create your own unique website with customizable templates.