This blog post is reposted from Facebook, written February 28th 2015 ...

Reposted this article (below) from

Howlround

and

Pat the Dog Theatre Creation

. When it comes to a conversation about adapting theatre to a digital age, I get an itchy feeling in my gut and can't help but spout my own editorial

http://howlround.com/bringing-theatre-into-the-digital-age

digitaltheatre.com

and

digiticaltheatreplus.com

are truly magnificent things. I use them and love them. But, as discussed in the comments at the bottom of this article, this kind of filmic distribution of a play is really only good for a few different kinds of plays -- typically proscenium-oriented designs on plays that are driven by image and story. Truthfully, most theatre. But it requires a movement away from almost any other kind of exploration of the artform (even plays that don't explore the form but might be immersive, participatory, or movement-driven; plays that may or may not incorporate more than one or two of the audience's five senses).

What I'm describing when I say "proscenium-oriented designs, etc" resembles early film. Pioneers of Hollywood started on stage and created stage-plays for the singular mechanical audience of a camera. There's nothing wrong with that; I adore film. It's a magnificent form of storytelling. But please don't let yourself be fooled into thinking that a digital distribution of theatre is breaking new ground in any way.

When I arrived in the UK two years ago, the hottest ticket in London was for "The Drowned Man," an immersive collaboration between Punchdrunk and the National Theatre. I never managed to get a ticket (usually sold-out despite a higher-than-average price and a long performance run) but the piece used masks to incorporate the audience into a complex maze of spaces and told a story through the self-guided fragments of audience exploration using dance. It would NEVER work on film. But I'm sure it made plenty of dough for the producers before transferring to New York --a classic example against the money-hole perception that taints experimental theatre.

One of the playwrights I've been privileged to familiarize myself with while studying here is Tim Crouch. Crouch's work is typically much simpler in terms of production than The Drowned Man. In fact, rather than using production elements to push against the tide of digital storytelling, he leans into the artform as we already have it. Perhaps "innovation" is too strong a word, perhaps it isn't, but Crouch forces the audience to rely on the liveness of their imagination: he incorporates false props or asks non-actors to read parts or has a "translator" speak on behalf of the audience while he treats them as a character. These kinds of devices are exploratory and excitingly challenging but strictly theatrical--not filmic! He is exploring theatre for theatre and audiences for audiences. It is this that has made him into a "name" in British theatre and he is in demand everywhere from elementary classrooms to

The Royal Court Theatre

(he also, like, so totally follows me on twitter, yo!).

Last night I saw a popular comedy that I didn't really like: "One Man Two Guvners." It is a proscenium story-driven comedy that, by all accounts, might translate into

digitaltheatre.com

's medium. But the very best parts of the play would have been the very worst moments of the filmed product. [Caution, spoilers approaching ...] A very small and "classic" bit of audience interaction was bolstered by a couple of plants in the audience so that, for a little while you thought, "Oh no, I hope they don't pick me," and "wait, is this real or is this fake?" and most importantly, "holy shit, we're genuinely in the same room as the actors!" It's exciting and playful and frightening. There's nothing like it. And although I wasn't keen on the play as whole, this particular production serves as another example against the money argument: possibly the largest theatre I've ever set foot in was nearly sold-out.

Sometimes theatre actually makes money.

Albeit, it's rare.

Ultimately, if theatre feels challenged by the more globally accessible, on-demand, juggernaut force of the internet, don't allow your tiny financial pay-back to to bully you into altering theatre into film. If it's money you're worried about, maybe spend less of it on production-value and, instead, harvest audiences by doing what Tim Crouch does: live, challenging, exciting theatre.

By all means, allow "the digital age" to inform your work! Make work for now. There's no need for another imitator of Chekhov. Instead, maybe do what Chekhov did and allow what you do to invent; invent a new audience or a response to an artistic movement or something other than re-inventing cinema. Cinema's already evolved and it's already awesome.

I keep meaning to re-read Grotowski as the Canadian dollar drops in value. Now there was an artist whose contribution to the artform was really a bi-product of his investment in people! An accidental inventor--one of our best.

Invest in people.

Or go make movies instead of theatre. Movies are great!
Powered by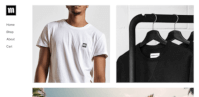 Create your own unique website with customizable templates.