About a month ago there was a brief twitter conversation about Canada's lack of a National Theatre. Since the Liberal win at our last election there's been a buzzing promise for more arts funding and I think people are excited about maybe being able to do more to build Canada's culture. A National Theatre has magnificent importance beyond representing a country to its citizens or its international peers. It elongates the ladder that makes up the ecology of the art form. When the praised pillars of Canadian theatre (like Richard Rose or Hannah Moscovitch) feel that there is a bigger mountain ahead of them, something they can climb to take their work further, it opens up their seat to the less established but equally deserving artists working "below" them. The more steps there are at the top of the ladder the less distance there is between steps at the bottom.

A higher place in our theatre ecology also opens opportunity for the kind of work being made. What if Richard moved on and D'bi.young Anitafrika took his place? Certainly a new kind of work would be harvested in the mainstream. Maybe Victoria Urquhart could shift into D'bi.young's previous place and then any Sue from Fringe could suddenly be as acknowledged as Victoria is finally becoming after her years of unrecognized work. You get the … etc.

So who is cut out to build our National Theatre? Where should it come from and how should it function? Obviously it can't be harvested from seedless soil.

The twitter discourse started around a gentle hint

in The Star

that Soulpepper wants to function as a national theatre (if not

The

National Theatre). To which the twits suggested alternative options – including myself. Soulpepper can't be it because their mandate prevents them from running a season of primarily Canadian content. @michaelwheeler put forward

Luminato

because they have the heart as well as the infrastructure of cash flow married to a physical address. I could be wrong but I understand Luminato to derive from "illuminate Toronto." Am I right? I don't know. But if I was from Regina or Yellowknife and learned that my National Theatre was born from a Toronto-centric focus I'd be a little … peeved.

I suggested that the

Magnetic North

festival was already functioning as Canada's National Theatre. The festival elevates indie artists, is accessible to audiences all over the country, and is already tethered to our National Arts Centre. But Magnetic North doesn't develop its own work and doesn't provide an important place for the Richard Roses and Antoni Cimolinos to retire from their stations and into creative glory, freeing their seats to a deserving younger generation.

But I still feel that Magnetic North is our best National Theatre. In Canada, we can't be represented by a single company. And I do not say this on account of our geographic magnitude. But we're a colonized country. A National Theatre would have to be able to put Native voices on the masthead. It would have to equally represent the sympathetic development of the majority (white) colonizers. And it would have to program our POC citizens as our brothers and sisters in a country where absolutely everyone is a somehow misplaced denizen. It would have to be bilingual. Or multi-lingual, including Native languages as well as French and English.

While it is not happening perfectly, to my knowledge Magnetic North is better set up for this than any other theatre or festival. But since I've brought up Native theatre, let's be absolutely real here: more often than not, Native voices don't represent our very best work. The reason for this is that our Native communities are still in the long ugly process of rising out of the trenches we plowed them into when we stole their identity with residential schools and exploitative land deals. They have come to lack the artistic heritages that we have been able to bring with us from Europe. The Canada Council for the Arts is working to aid this restructuring of their creative voices and heritage by funding First Nation artists with the justice of abandon. Magnetic North is then situated to cradle new Native plays after the funding has enabled them. this process of encouraging new Native culture is mandatory and just.

But they must also be focused on presenting our best work. And, to echo, that's often not First Nations theatre. It is in looking for our best work

across all voices

that presenters like Magentic North will truly discover and enable all of our very best work. Because only once it is seen can it be improved upon. And who else has a history and producing model to represent all of Canada in this particular important way? Certainly not Soulpepper. Maybe Luminato. For Magnetic North, it's there. In fact, for Magnetic North it's everywhere; all over the country with clockwork regularity.

As far as I can tell, the only thing between Magnetic North and our functioning National Theatre is that extra rung it should place at the very top of the ladder. But maybe they can do that. They're still a young festival. All it takes is one of their own shows per year, no more. After a few years of finding their feet, still elevating the very best indie theatre from our full diaspora by presenting it across Canada, maybe Magnetic North could commission artists to develop our own War Horse, our own Les Miserables … it's only one more rung on the ladder, not that far from reach.

Incidentally, if you like, you're welcome to sit on that top rung and make it happen. Magnetic North is currently in the process of hiring a new Artistic Director.

Applications are due tomorrow

! Go!
Powered by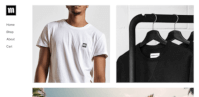 Create your own unique website with customizable templates.