Whaddyahmean I'm not blogging about theatre this time??

​Ontario Premier Kathleen Wynne recently announced that the provincial minimum wage will increase to $15/hr by January 2019. So, naturally, the local pockets of my internet exploded. Impassioned, I was quick to join the chorus of two-dimensional, selfishly-motivated, twit-quipper, assertions. This is the mating cry of my natural habitat.

I've enjoyed a long career spattered across a slew of small independent businesses. I've seen almost all my employers suffer. Tragically, I've therefore seen most of their employees—martyrs of the minimum wage—catch that suffering and swallow it.

In my area, at 40 hours a week, the living wage is juuuust over $16/hr (or at least it was a year ago; I live in one of the fastest-gentrifying regions in the country). In Toronto living wage is somewhere around $18.

Now, imagine a restaurateur employing:
At least one prep staff for an hour or two every morning.
At least two kitchen staff + two waiters over lunch.
Five or more people between the kitchen and dining room over dinner.
At least one person cleaning up after.
And the less people they've got working for them, the longer everything takes.
So … conservatively, that's at about 35 hours paid out to staff each day. At my local living wage, that's about $560. Of course, waiters and bartenders have a lower minimum wage, so let's pretend that their living wage accounts for tips. So, without doing the math, let's assume that a generous restaurateur pays $450 in wages seven days a week (not five).
Then, of course, add other expenses such as gas, oil, quality kitchen appliances, air conditioning, rent, food, linens, etc.

Picture painted.

Now imagine a single-income family living on the current minimum wage of $11.40/hr (or less if a student or a server). Let's pretend the breadwinner clocks 60 hours per week between two jobs. That family makes $684 per week before expenses. Or near $2,500 per month. A family of three might pay $1000-$2000 for rent. Leaving, let's say, $750 each month for utilities, phone, transit, food, and a half-decent pair of shoes. God forbid they need to take a day off to take their malnourished kid to the doctor. Or a new lens prescription.

Yikes.

So here we stand: small businesses can't afford to pay a living wage and families can't afford the current minimum wage. What's a province to do? The conversation around raising the minimum wage is far too partisan. People like me tend to shout into their towers allowing the discourse to echo back more and more diluted with each refrain.

The primary function of a minimum wage should not be to force major corporations out of slave labour. The function should be to set a standard for all wages from the very bottom of the ladder to the top. Theoretically, with this wage increase happening at the lowest entry-level bracket, mid-management should see a proportionate increase in their wages. It only makes sense, right? This increase should be reflected throughout the whole corporate structure. On the other hand, importantly, the standard of living that is forced upon most of a large corporation's employees should be reflected in the standard of living that is awarded to the CEO. That is to say, if clerks and labourers have to forge dandelions for dinner, the millionaire that forces that on them can damn well take a pay-cut. Obviously. That is how the minimum wage should function.

But that's not the reality. The reality is, minimum wage is what allows employers to effectively tell you: if I could pay you less, I would. It is the point at which workers are most powerless in all respects.

The greatest injustice is not in the absence of equitable negotiations, however. Because the top tier of the ladder is always uninterested in taking a pay-cut, the cost of a rising minimum wage will not be reflected in his or her luxuries, it will be reflected and paid-for in the cost of goods and services. The greatest injustice is that the people paying for an increasing minimum wage are the consumers who live on that minimum wage. The very meaning of affluent capitalism is to trick the population into believing it is rich enough to afford the lifestyle being sold to them. As people's wage increase almost $4/hr in a brief year-and-a-half, they will feel rich enough to afford the rising cost of living. But that won't always be the case.

I am, however, thrilled to champion the increase. As a part-time artist, part-time barista, part-time producer, part-time teacher, part-time pundit, part-time dad, I have very nearly nothing to gain from an increased minimum wage. Except for a temporarily healthier society to surround my child. An even short-lasting access to a higher quality of life around me is the trump card. It is also worth noting that even this increase fails to maintain a wage that is proportionate to inflation. And that has been hard-won by the sweat and tears of our poorest citizens.

Much of this relates to corporate structures. When it comes to small independent ventures however, please sincerely keep in mind, when you tip your server, you are supporting them just as much as you are supporting an employer who truly can't afford to pay them better. It's a sour world we live in.

Which is why I am a strong proponent of a Basic Universal Minimum Income. A Guaranteed Income, in and of itself, is non-partisan. The various ways that it may be carried out, however, could be severely right or left. And the partisan literature surrounding different ideas of what it means is suffocating. But we are moving towards automation. And desk-jobs are fast becoming the new blue-collar. This means that, not accounting for inflation, the cost of manufacture and supply is poised to decrease in precise proportion to workers becoming increasingly redundant.

While raising the minimum wage invents a cost on the backs of employers, inserting a Universal Minimum Income invents a cost on government. Capitalism will be able to make bolder moves towards automation while the government gains tax dollars from the corporations that cut that edge (as well as the elite who run them). Importantly, in direct contrast with raising the minimum wage, the largest demographics of population would then be empowered to support the economy with a spending power that does not directly force retailers to raise their prices.

There are those who might correctly argue that a Gauranteed Universal Income makes a nation less desirable to major corporations. But that only applies to corporations of a certain kind. Software companies will be attracted to a passionate and well-educated workforce. Localized farming would boom dramatically. Social infrastructure jobs (such as healthcare, firefighting, and teaching) would become simultaneously more accessible to those interested and more exclusive to those who excel at them. Engineering would necessarily grow. To say nothing of art and culture (which is one of the UK's largest exports for you nay-sayers).

A Universal Income also frees small independent companies from the crippling cost of fair labour. In the meantime, those companies can enjoy the benefit of a larger pool of patrons. I, for one, am absolutely certain that I would contribute magnificently more to society if I didn't have to split my time and energy under the weight of capitalism.

Surely those of us who are blessed to live above a certain income bracket pale at the thought of the taxes required to support this. But consider this: for a little less money every 12 months, you could live in a society that is a little healthier, less addicted, more literate, more capable of helping each other, more capable of contributing passionately, and more grateful for the hard work you do to support it all.

I know I'm speaking too-simply. But it has only been tested too-simply: on the small scale. Nevertheless, as far as I've read, the results have always been positive.
Powered by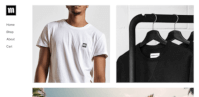 Create your own unique website with customizable templates.