I've got thirteen tabs open on my computer.

While waiting for them all to load I'd like to help my self by talking about what they contain.

For the final assignment of my master's degree I'm defending the artistic choices I've made over the past year by looking at a small window of

Polyculturalism

and re-examining

Jacque Ranciere

's theories of political equality and action. My understanding of the philosophies is still developing but its relevancy seems to be compounding. This morning, I opened my newsfeed and saw how hideous we all are.

Dylan Roof

shot and killed nine black people in Charleston, admitted that it was a race crime, and is being tried for mental illness.

Rachel Dolezal

is facing trial-by-media for being a white woman in blackface. Less formally, there is a plea of mental illness growing around her as well.

Donald Trump is running a

racist

presidential campaign on the popular moral grounds that he has a lot of fuggin' money.

These individuals are not mentally ill. Their homes are. Their families are. Their countries are. Their media and role-models and businesses are mentally ill. These individuals are the proliferated bacteria of the contagion. We can put them up for trial, quarantine them, maybe even eradicate them, but the disease will sneeze new soldiers into our midst and the plague will keep on spreading.

Canada

and the

UK

are making immigration harder and harder.

Pope Francis released his

encyclical

on our theological relationship with the planet and is

making enemies

for the Church (many of whom consider themselves members of the Church).

What things to wake up to. I could just cry.

Our collective mental illness is widespread because we are trying to identify the world and ourselves as singulars. Dylan Roof is a white supremacist because we have somehow taught him that it is better to be not-black. And he identifies himself within this white, not-black singularity. Donald Trump has power because people think money is good. We see him singularly: a symbol for capitalist status. Immigration laws and political borders only exist to enforce the singularities of one homogenous group against another.

Polyculturalism states that there is no such thing as a homogenous group. That a group of black activists contain women and men, a group of black

women

activists contain old and young, a group of

old

black women activists contain the abused and the blessed, a group of old

abused

black women activists contain Christians and Muslims … ad infinitum. Feminism refers to the relationship between these identities as intersectional. A person's race intersects with her gender to create a stew of experiences that is unique from just the race or just the gender.

In a leftist polycultural utopia, the powerful will create systems to elevate the non-powerful and, with respect to the intersectionality of the non-powerful group(s), the powerful will not police the functions or development of the very systems they've put in place for elevating the non-powerful. In this way, the non-powerful group(s) will be able to not only control and manage itself, but to also identify itself. Without the hierarchical guide of the powerful there is necessary room for the non-powerful identities to be fluid.

So where does Rachel Dolezal fit into all this? As someone who is empirically white but claims to be culturally black, surely she cannot possibly be a symbol of this wicked singularity that is eating us all. She must be a product of the polycultural utopian regime, no? Her blackness is built on the privilege of academia: therefore, even if black, she is intersectional with a powerful group (academia). As such, she has a responsibility to elevate her black peers. Regardless of whether she does so, her voice in the policing (organization, management) of that group should be muffled. I am speaking in terms of the polycultural model.

Much more importantly, however, her blackness is free of an upbringing and background that includes being stopped and frisked, free from being judged by the gatekeepers of opportunity, free from the literal inheritance of a certain kind of American poverty, free from being murdered by cogs like Dylan Roof. Surely she brought a lot of that on to herself but that is not the world she grew up in. As such, within the polycultural model, her voice is necessary in the elevation of Black America, but banned from the management of it.

But wait! There's a contradiction here. If the powerful have to give up their power, who becomes the powerful? That is why the polycultural utopia is fluid.

Cue Jacque Ranciere! An onomatopoeically fun-French-philosopher who states that … wait for it … you may need to sit down … this is the most radical statement in my ramblings … he states that we are all equal.

Yeah. Let that sink in.

I stayed up late last night reading the few pages of Pope Francis's Encyclical. I'm as impressed as I thought I would be. He touches upon our singularity as humans and, sticking to traditional Catholic doctrine, brings attention to our universal Communion as a species, mystically united to each other in Creation for the very purpose of developing relationships that elevate the greater good. Please, read it.

For Ranciere, inequality only exists in the formation of a group, homogenous or not. Inherently we are all already equal. Equally good, equally bad, equally potent in our humanity. If I was as familiar with his work as I'd like to be, I might even venture to say that he has a very Catholic view of humanity. Inequality only exists in our rife and cruel system of separate singularities.

But just to keep things confusing, Ranciere's equality is an overall singularity. For Ranciere, political action is anything that moves towards the whole singularity of equality by existing outside of the behaviors we have built and normalized to expect from each other. As my tutor put it, voting is not a political action … because it is an expected behavior that exists within our constructed singularity. Political action is an action that exits whatever singularity we've made to define ourselves. But I'd argue that murdering black people is not a political action despite our collective agreement that murder is wrong; it is not a political action because our society already attacks black people; it is not a political action because it does not motivate us towards our inherent basic-state of equality; it is not a political action because it enforces our collective mental illness of

separate

singularities.

Is Rachel Dolezal's borrowed identity a political action according to Ranciere? I might argue, yes. Her lifelong blackface exits the boundaries of our previously agreed normalcy and demonstrates the potently human sameness of black and white people. Rachel Dolezal's intentions have always been to move us towards our inherent equality. Does that excuse her?

As a member of the most privileged singularities, and according to the polycultural utopic values, I dare not monitor or manage Rachel Dolezal. I can only point to her. Her biggest contradiction is not in her race but in the way that she can, and should, draw attention to herself as a political action, as a system against our racist norm. While, being a privileged individual, she should not police or take part in that system which is herself. She has the responsibility to offer the political action of her mushed identity but not the right to do anything with it. She's acted politically towards Ranciere's equality but is too privileged to take part in the action.

There. Do you feel better now?

Neither do I.

So what can we do about it?

Well, I had crunchy granola for breakfast this morning so I'm going to offer a crunchy granola solution. A solution that I think is paramount to our deeply infected mess of unequal singularities.

Go to the theatre.

More importantly, go see stories with characters that don't look like you. Drag your friends out. Because the theatre is perhaps the only space where we can exist in a forgiving, demanding, supportive, thorough, unapologetic, fun discourse with ourselves! The only other spaces that happens are at church and sporting events. But one of those isn't fun and the other is not forgiving. So go to the theatre.

Storytelling is the birthplace of empathy. Empathy is the strongest medicine we have to fight this horrible disease. Theatre is the storytelling platform that has more freedom than film and television. It is a place where the storytellers are standing warm in front of you, proclaiming (with the triumph of all their years of hardships this vocation has inflicted upon them) that we have a responsibility for each other. They're proclaiming that we have so much to learn from each other. Proclaiming that we are all fuggin' nuanced. Proclaiming that two opposing views can both be righteous at the same time. Proclaiming that we are all very much the same. Proclaiming that we've got a long long way to go!

If our sickness is going to demand our discomfort, we might as well seek discomfort in places where we can enjoy it—in places that prepare us to face the real thing more gracefully and humanely.

If we go see stories that represent the non-powerful, created by the non-powerful, and take part in those stories by being an engaged audience to them, then we will be fulfilling our duties towards the polycultural utopia. We will deliver the system for the non-powerful to grow and, by witnessing, allow it to unfold for all our sakes. We will celebrate our Ranciere-ish equality by being empathetic for a singularity that was once systematically isolated. We will remove that isolation without policing it.

Empathy is our best medicine and theatre is our best source.

How can we look at Rachel Dolezal if we have not practiced our empathy? How can we understand the manufacturing of Dylan Roof without empathy? How can we face God without empathy?

Go to the theatre.

The faces of Dylan Roof's victims:
Powered by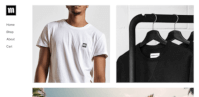 Create your own unique website with customizable templates.