In my undergrad we learned that "theatre" means a performance and an audience. It's a lovely little chemical reaction: one part performance, one part audience. You cannot have one without the other and the two together make a separate whole, a theatre event.

I remember an upper-year class when we revisited this. I had the gaul to argue with Guillermo Verdecchia, our professor at the time, when he told us that theatre sometimes happens by accident. His example was if a couple argues in a public place they may draw attention from those around them, thus causing theatre to occur. I'm still not 100% on board with calling that "theatre" but why squabble? It's a wonderful example for Guillermo's argument because it employs so many other devices of the art form: dialogue, character progression, the community and discomfort of shared space, a relationship between the performers and the spectators in which the spectators have a real effect on the performance …

I think I prefer to think of theatre a little more conservatively than that. Specifically, a storytelling event in which the audience and the performer(s) share an agreed contract to work together. I've held to this view for probably longer than is healthy. Drama happens between or among the characters of the story being told and theatre happens between the drama and the audience. Actively, willingly, knowingly. That's not to say that a couple fighting in public can't

become

theatre—but if the example is considered purely, I don't think it is.

So what about guerilla theatre? Or even solo theatre? While the latter may still contain drama, the former … well … it usually sets out to reveal itself at some point. Not always, but that's the heritage it owns.

And minimalist theatre? – Even Beckett's Breath tells a dramatic story.

But I think Beckett would agree, nothing is precise or can be perfectly pegged under the titles we give it.

If you've read enough of my bloggegejjing here before you've probably guessed by now, I'm not setting out to talk about couples fighting in public. I want to talk about the liveness of theatre. And it's changing relationship to technology.

Two months ago Peter Bradshaw wrote a

review

for Kenneth Branagh's production of Romeo and Juliet at the Garrick Theatre in London. At intermission, as planned, Bradshaw left the Garrick and walked into a nearby cinema where the same production was being screened in real time. The idea, of course, was for this seasoned critic to judge the strengths and differences of live theatre and video streaming.

What better production to choose than one of Kenneth Branagh's? He has a terrific history of adapting Shakespeare for cinema. And Peter Bradshaw was the man for the job because of his history of critiquing both mediums as well! Bradshaw weighed his review carefully, with a meticulous British temper that darn't distress anyone. But with Brannagh directing for both audiences, the reviewer couldn't hide his preference for cinema as a superior visual medium.

To echo my cantankerous view of what the art form is, Bradshaw is deeply mistaken to judge and compare theatre as if it were a primarily visual medium.

Sure, great visuals are important to dramatic storytelling and certainly make an integral part to the quality of a production but if you're hungry for magnificent images you'd be better off going to the circus or an art gallery.

There is an overlap between probably all art forms. Theatre and film are as intertwined as sculpting and carving. So much the same but so very different. When I think of Christopher Nolan's The Dark Knight Rises, a carefully composed soundscape comes to mind, music and sound taking a principal role in the pace, progression, and impact of the dramatic narrative. But people didn't buy tickets to listen to an orchestra. They bought tickets to absorb the dramatic narrative (and badass action montages … I guess).

When I think of Romeo and Juliet (rarely), I don't first wonder what the set and costumes are going to look like. I wonder how the actor is going to navigate Romeo's shift from infatuation with Rosaline towards Juliet, or how this actress permits Juliet to sleep with her cousin's murderer, or how the most intimate moments between R and J are made public with and for their audience, or how the audience does or does not permit themselves to be engaged or shocked or moved by an ending they know far too well.

And THEN I'll ponder about the setting, the casting, the composition, etc. and how those elements will function to usher the above. Of course, all those secondary things are

necessary

to achieve the art form's central pillar …

… which is nothing more than the relationship between the drama and the audience.

But I'm not writing to talk about people fighting in public. Film has all this stuff. Cinema is an event. It has drama and an audience. It shares most of the same devices that hold these pillars luminous. One might even argue that a film-going audience has a direct effect on the construction of a film. And, further down the rabbit hole, when a live theatre event is streamed into the cinema as it was with Brannagh's R and J, is there really any difference at all?

This is important to be questioning right now because the livestreaming and filmic distribution of theatre events is becoming more and more common. Opera has been

doing it for at least ten years

. It's becoming a trend in West End Shakespeare productions, and the Stratford Festival

is doing it too

. As with Branagh's R and J, it is having a profound effect on the way plays are being directed.

In fact, if a play is being directed for video-streamed release, and a film-going audience shows up to the cinema to watch it, is it still theatre?

Of course there is a live audience participating in a live event where the "movie" is being filmed. But when the event is distributed cinematically this theatre audience makes up the smallest fraction of those who view the piece.

It is also worth noting that television has a long history of filming episodes live and streaming them to TV audiences in real time. From ongoing live serials like the Dick Van Dyke Show to live sitcom one-offs like certain episodes of the Drew Carey Show, Home Improvement, The Red Green Show (I'm showing my age here), to say nothing of over 40 years of Saturday Night Live, etc. etc. Does a live studio audience make TV into theatre?

No? Maybe! Because of Guillermo Verdecchia's careful example of accidental theatre occurring: the relationship between the audience and the drama has to have an impact on how the drama is presented. When an actress decides how to justify Juliet having sex with her cousin's murderer she has to consider the audience: allow them to participate in her hots for Romeo, she has to develop a shared language of nuance and subtext with the audience in order to become able to demonstrate how her relationship grows without actually having sex with him on the stage (in most productions, anyway). Most importantly, how that occurs exactly will change evveerr so sliiightly in each performance.

Incidentally, this is the reason that stage actors have to rehearse the same scene over and over for three weeks and film actors don't—usually.

So then is a West End or Broadway production of The Lion King still theatre? Because Disney

corp

has the execution of this show monitored and specified to its smallest sharpest edges. There is much less wiggle room for the performance to engage with the audience in subtle and nuanced ways. Honestly, I don't know. Maybe it isn't theatre. (I've never actually seen it on stage, oops).

| | |
| --- | --- |
| ​A film (or most episodes of most TV shows) is meticulously designed by the director to elicit a specific relationship with the audience. Importantly, it is a relationship that the audience does not participate in building. And then, it sits there, in perfect existence, continuing to be a film and or a TV show even when nobody is watching it. | ​A play is developed by a team in order to reach a maturity that is capable of a healthy two-way relationship with its audience. And when its over it ceases to exist entirely. |

So surely some things—like Kenneth Branagh's R and J—can be absolutely both. What interests and concerns me is when folks like Brannaugh direct the living breathing medium of theatre to be functional as the static authoritarian medium of film.

Maybe there's a magnificent opportunity here. Maybe something drastic happens like an actor forgets his lines. Or some adjustment of Branagh's design gets made in performance on account of that night's particular audience resulting in a camera angle getting lost and 30 seconds of empty film. The effect this may have on the audience would last the rest of the show. Maybe theatre can challenge the dominant naturalism of film?!

It is the dawn of a new age.

And yet. And yet, theatre's effect on film still only happens to the cinema audience, not with them. And so, while exciting, it doesn't actually bring the theatre out to other audiences. It may bring the play, but not the form it inhabits.

My colleague Clotilde de Verteuil makes puppets. For her BFA dissertation she built an automaton. Pretty awesome! Unfortunately for her she was docked marks on it because the automaton was not a puppet. A puppet is animated through performance and is only characterized by an audience's ability to project their reality and understanding onto it. Puppetry is an ultimate theatre because it magnifies the necessary living relationship between performance and audience.

An automaton doesn't change or respond to the audience except by mistake. It may tell a story. It may develop character. It may even require its audience's intersession in order for it to function. But it doesn't change and grow with its audience the way that an actor, a character, a puppeteer, or a puppet are designed to do.

As closely alike as film and theatre, sculpting and carving, puppets and automatons are completely different from each other.

Are automatons still cool? Fuck yeah!
Is film still awesome? You bet!
Does Beckett think things fit neatly into the titles we give them? Not very likely!

So why squabble?

Because! It is important to me that we don't think theatre is failing when it constantly refuses to be film. It is when theatre is least filmic that it is thriving.

Also, hey Peter Bradshaw! Let's judge theatre for what it is, shall we?
Powered by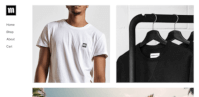 Create your own unique website with customizable templates.